Just imagine an academic/tech conference…
Participants dress professionally. Some may wear suits or dress shirts with trousers, while others may opt for blouses with skirts or pants, or that kind of professional attire. There is a sense of importance or urgency regarding the topics being discussed or the work they are involved in. It creates an atmosphere where individuals appear deeply invested in their contributions and the outcomes of the meeting. In some of these meetings, some participants may exhibit an overconfidence and present themselves in a sophisticated manner when they are under the spotlights of the stage, forgetting that the true value of a meeting lies in collaboration, the exchange of ideas, and the pursuit of mutual understanding rather than personal grandeur.
DWeb Camp
DWeb Camp 2023 is not one of these self-styled "important" meetings.
Imagine a stunning forest characterized by majestic redwood trees towering hundreds of meters in height, with a nearby river beautifully meandering through the landscape. Everywhere is a stage: Under the tree, across the field, alongside the river… There is no feeling of urgency, the titles of the participants are not important, and the joy of missing out is encouraged. This is the spirit of DWeb Camp.
At DWeb Camp, you observe that the participants are dressed in a casual manner, wearing pajamas, shorts, or any attire of their choice during their talks. Some even have their children with them, clinging to their parents during their presentations. However, amidst this diverse crowd, everyone remains engaged in exploring the frontiers of science, technology, and collective human intelligence, with the shared goal of empowering individuals and communities. It shows you that no matter what clothes you wear, no matter the color of your skin, no matter what your anything else is, you are welcomed.
The only thing needed is to treat others with kindness and respect, and to have a passion about the decentralized web, even if you have no technical knowledge. DWeb Camp serves as a platform for researchers, developers, activists, and all people who wish to come together and discuss the challenges, concerns, and opportunities related to decentralization, privacy, security, and open protocols on the web. There is a true sense of community and it encourages the exchange of perspectives among participants from diverse backgrounds.
My Perspective on Holochain
I was amazed by Holochain from the very first day I encountered it in the spring of 2018. This feeling grew stronger over time, and at times, I wondered if my enthusiasm for Holochain might be an exaggeration due to my deep involvement. As a non-technical person, I was concerned that I might have missed something important about it. That is why I wanted to see how others, especially technical experts and policy makers, perceived Holochain when they were learning about its "whys, hows, and whats" at the camp.
It proved to be a bit challenging for them to grasp Holochain because it has a completely different paradigm compared to blockchain. While blockchain is data-centric, Holochain is agent-centric. This means that the users, which include ourselves and our devices, play a central role in a Holochain network. This perspective shift is difficult because it requires adapting to a more distributed and truly peer-to-peer way of managing data and interactions between autonomous agents. Additionally, understanding other aspects of Holo and Holochain such as the mechanism behind HoloFuel, a mutual-credit system backed by hosting power which is a significantly different approach from fiat or Ethereum for example, added another layer of complexity. However, as they started to understand it, I clearly observed the excitement in their eyes.
They became excited because they could envision how this tool/framework enables us to address and solve problems effectively. Therefore, this excitement among technical persons and policy makers was not merely a result of theoretical fascination, but rather a recognition of the practical possibilities and potential solutions that Holochain brings to the table. It sparked a genuine excitement about the transformative impact it could have on our digital sphere and the abilities it offers to individuals and communities in shaping their own destinies.
One Last Thing About Holochain...
I closely observed the Holochain team members and the Holochain community during the camp. The most notable aspect that stood out to me was their genuine lack of greed. Despite creating or being involved in an exceptional and potentially disruptive technology framework, the team members and the community exhibited true modesty. This humility was not artificial or some sort of facade; it is an inherent part of their nature, and it likely contributed to their ability to develop Holochain. Inspired by nature, they clearly combine their intelligence with the virtue of humility. They are not driven by a desire to save the world; instead, they passionately work towards building a meaningful tool that can assist people in their daily lives. And quite possibly, their dedicated efforts will ultimately lead to world-changing improvements.
Allow me to conclude with a profound quote from Arthur Brock that encapsulates the essence of Holochain concisely:
"Holochain is not built to attack national currencies, blockchain currencies, or surveillance corporations. Instead, we are simply focused on building viable, functional alternatives."
Author Bio
Yavuz Selim Kıyak is a medical doctor with an additional PhD in Medical Education. His research interests include clinical reasoning, formative assessment, and distributed ledger technologies such as Holochain. He resides in Turkey and passionately shares his knowledge of medical education. Find him on LinkedIn, or find his research via his ORCID: 0000-0002-5026-3234
Relevant Author Publications
---
Below, the article has been translated into Turkish by the author.
DWeb Kampında Holochain ile Bir Şeyleri Kaçırmanın Keyfi
Başarıyı, Hırsın Ötesinde Yeniden Düşünmek
Bir akademik/teknolojik konferans hayal edin…
Katılımcılar ciddi görünümlü kıyafetler giyinir. Bazıları takım elbise veya pantolon-gömlek giyerken, diğerleri şık birer bluze ek olarak etek-pantolon veya benzerî profesyonel kıyafetleri tercih eder. Tartışılan konulara veya dâhil oldukları faaliyetlere ilişkin yüksek bir önem ve aciliyet duygusu hissedilir. Bu durum, bireylerin kendi katkılarına ve toplantıdan elde edecekleri şeylere derinden yatırım yapmış oldukları bir atmosfer oluşturur. Bu toplantıların bazılarında, bazı katılımcılar aşırı özgüven sergiler ve bu kişiler sahnede spot ışıkları altındayken kendilerini sofistike bir şekilde sunar. Bir toplantının gerçek değerinin kişinin kendisini öne çıkarmaya çalışmasından ziyade işbirliği yapmakta, fikir alışverişinde bulunmakta ve karşılıklı ortak anlayışa ulaşma çabasında yattığını unutabilirler.
DWeb Kampı
DWeb Kampı 2023 (Decentralized Web Camp / Merkeziyetsiz İnternet Kampı) kerameti kendinden menkul bir şekilde "mühimlik" iddiasında olan o tür toplantılardan biri değil.
Yüzlerce metre yüksekliğinde görkemli sekoya ağaçlarıyla kaplı, etkileyici bir orman hayal edin; hemen yakınındaki nehir, manzara boyunca usul usul kıvrılıyor. Her yer, katılımcılar için birer sahne hüviyetinde: Ağaçların altı, çim alan, nehrin kenarı... Aciliyet hissi yok, katılımcıların unvanları önemli değil ve bir şeyleri kaçırabilmenin keyfini yaşamak teşvik ediliyor. DWeb Kampı'nın ruhu işte tam da bu.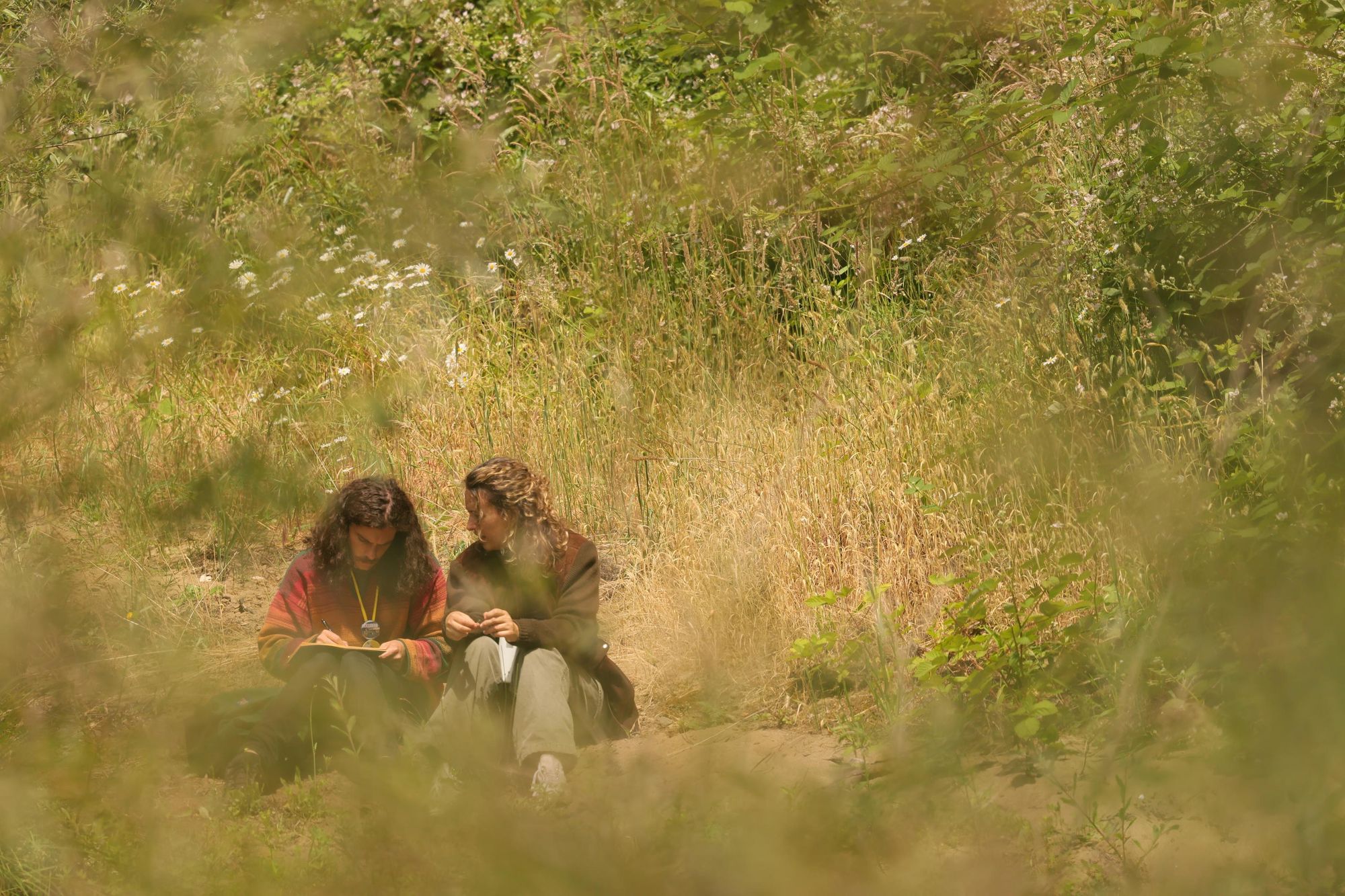 DWeb Kampı'nda katılımcıların yaptıkları konuşmalarda bile pijama ve şort gibi rahat kıyafetler giyebildiklerini, istedikleri herhangi bir kıyafeti seçebildiklerini gözlemliyorsunuz. Hatta bazılarının çocukları da yanlarında, sunumları sırasında sahneye gidip ebeveynlerine sarılıyorlar. Ancak, bu çeşitli kalabalığın arasında her bir fert, bireyleri ve toplulukları güçlendirmeye yönelik ortak bir hedef doğrultusunda bilimin, teknolojinin ve kolektif insan zekâsının sınırlarını keşfetmekle meşgul. Hangi kıyafeti giyerseniz giyin, teninizin rengi ne olursa olsun, başka herhangi bir özelliğiniz ne olursa olsun, hoş karşılanıyorsunuz.
Gerekli olan tek şey, başkalarına nezaketli ve saygılı davranmak ve teknik/yazılım bilginiz olmasa bile merkeziyetsiz web'e yönelik bir tutkuya sahip olmak. DWeb Kampı, bilimsel araştırmacılar, yazılım geliştiriciler, aktivistler için ve hatta bir araya gelerek merkeziyetsizleşme, gizlilik, güvenlik ve web üzerindeki açık protokollerle ilgili zorlukları, endişeleri ve fırsatları tartışmak isteyen herkes için bir platform görevi görüyor. Gerçek bir topluluk duygusu var ve çok çeşitli alanlardan bilgi birikimine sahip katılımcılar arasında bakış açılarının değiş tokuşu teşvik ediliyor.
Holochain Hakkındaki Kişisel Bakış Açım
Holochain ile 2018 baharında karşılaştığım ilk günden itibaren ona hayran kaldım. Bu his zamanla daha da güçlendi ve zaman zaman, Holochain'e duyduğum coşkunun derin ilgimden kaynaklanan bir abartı olup olmadığını hep merak ettim. Teknik/Yazılım bilgisi olmayan biri olarak, bu konuda önemli bir ayrıntıyı gözden kaçırmış olabileceğimden endişe ettim. Bu nedenle kampta Holochain'in "nedenlerini, nasıllarını ve ne olduğunu" öğrenirken başkalarının, özellikle de teknik uzmanların ve politika yapıcıların Holochain'i nasıl algıladıklarını görmek istedim.
Holochain'i kavramak onlar için biraz zor oldu çünkü Holochain blokzinciri teknolojisine kıyasla tamamen farklı bir paradigmaya sahip. Blokzinciri veri merkezliyken, Holochain katılımcı (agent) merkezlidir. Bu, bir Holochain ağında bizlerden ve bizim cihazlarımızdan oluşan kullanıcıların merkezî bir rol oynadığı anlamına gelir. Veri merkezli bakış açısından bu bakış açısına geçmek zordur çünkü kendi iradeleriyle hareket eden katılımcılar arasındaki veri ve etkileşimleri yönetmenin daha dağıtık ve gerçek anlamda eşler arasında (P2P) işleyen bir yöntemine uyum sağlamayı gerektirir. Ayrıca, Holo ve Holochain'in, örneğin fiat paralardan ve Ethereum'dan önemli ölçüde farklı bir yaklaşıma sahip olması, barındırma gücüyle desteklenen bir karşılıklı kredi (mutual-credit) sistemi olan HoloFuel'in arkasındaki mekanizma gibi diğer yönlerini anlamak, başka bir karmaşıklık katmanı ekler. Ancak günün sonunda, anlamaya başladıklarında gözlerinde beliren heyecanı net bir şekilde gözlemledim.
Heyecan duydular çünkü bu aracın/teknolojinin sorunlarımızı etkili bir şekilde ele almamızı ve çözmemizi nasıl sağlayabildiğini hayal edebiliyorlardı. Dolayısıyla, teknik/yazılım arka planı olan kişilerdeki ve politika yapıcı insanlardaki bu heyecan sadece teorik bir hayranlığın sonucu değildi, daha ziyade Holochain'in bize sunduğu pratik fayda ihtimallerinin ve potansiyel çözümlerin farkına varmalarından kaynaklanıyordu. Holochain'in dijital hayatımızda yaratabileceği dönüştürücü etki ve kendi kaderlerini şekillendirmede bireylere ve topluluklara sunduğu imkânlar konusunda hakikî bir heyecan oluşmuştu.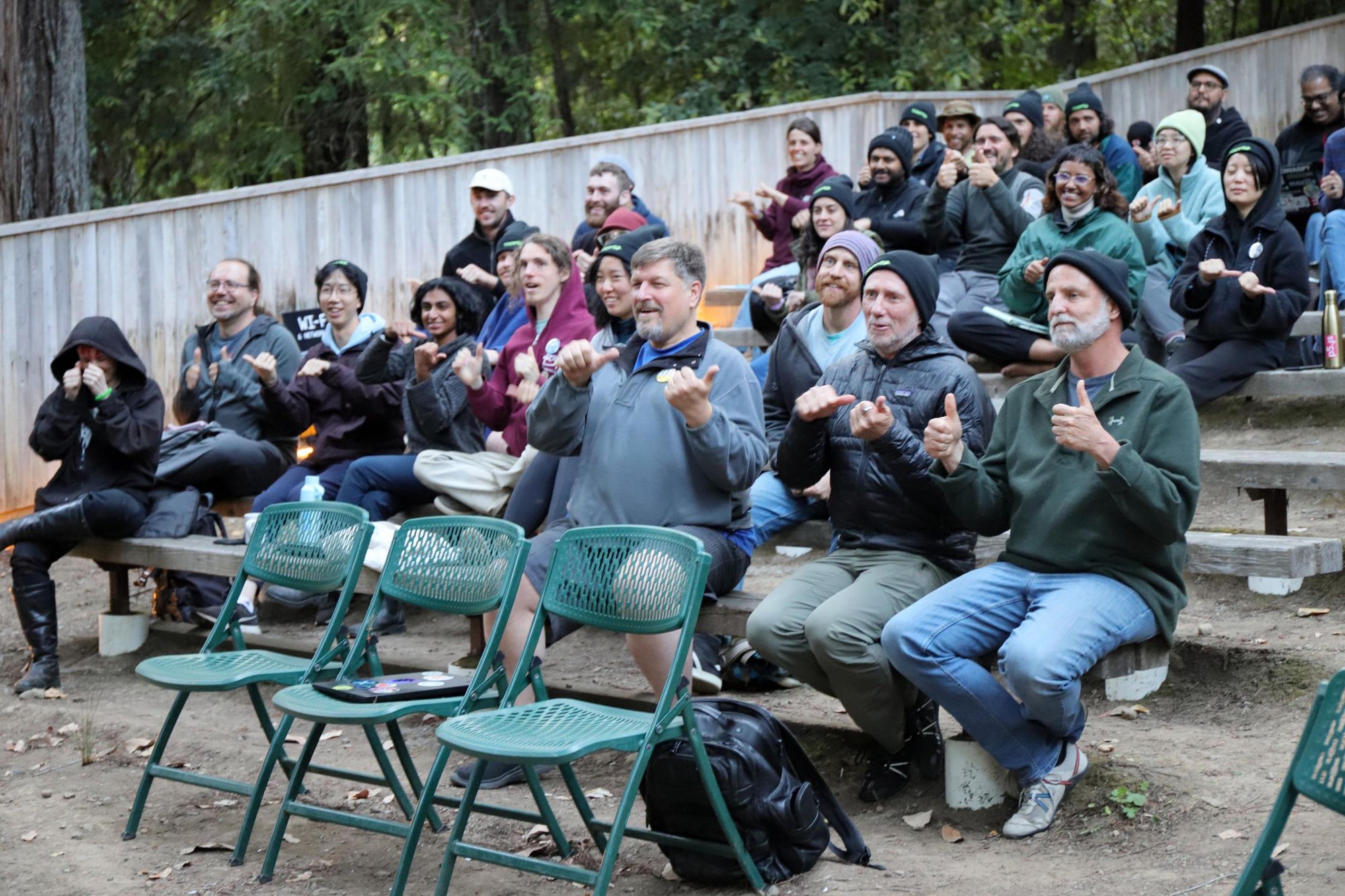 Holochain Hakkında Son Bir Şey Daha...
Kamp sırasında Holochain ekip üyelerini ve Holochain topluluğunu yakından gözlemledim. Gözüme çarpan en önemli husus, açgözlülükten gerçek anlamda yoksun olmalarıydı. Olağanüstü ve potansiyel olarak yıkıcı bir teknolojiyi oluşturmalarına ya da bu teknolojinin oluşmasına katkıda bulunmalarına rağmen, ekip üyeleri ve topluluk gerçek bir alçakgönüllülük sergiledi. Bu alçakgönüllülük yapay değildi ve bir sahtelik içermiyordu; kendi doğalarının olağan bir parçasıydı ve muhtemelen Holochain'i geliştirmelerinde de büyük katkısı vardı. Doğadan aldıkları ilham doğrultusunda, zekâlarını alçakgönüllülük erdemiyle harmanlamış görünüyorlardı. Gördüğüm kadarıyla, dünyayı kurtarma arzusuyla hareket etmiyorlar; bunun yerine, insanlara günlük yaşamlarında yardımcı olabilecek anlamlı bir araç oluşturmak için tutkuyla çalışıyorlar. Ve büyük olasılıkla, bu özverili çabaları nihayetinde dünyayı değiştirecek gelişmelere yol açacak.
Arthur Brock'un, Holochain'in ruhunu kısaca anlatan özlü bir ifadesiyle yazıyı bitirmeme izin verin:
"Holochain ne ulusal para birimlerine, ne blokzinciri para birimlerine ne de bizleri gözetleyip duran büyük şirketlere saldırmak için inşa edildi. Bunun yerine odaklandığımız şey sadece şu; kendi ayakları üzerinde durabilen, işlevsel alternatifler oluşturmak."