Back in 2020, I was going through a crisis of faith. I wasn't sure if my involvement with Holochain was worth the effort. Sure, it was a noble idea. I mean, who doesn't want to be more in charge of their own online lives? But I worried that it was a lot of energy wasted on the wrong solutions — maybe we'd convinced ourselves that the tech was more important than it really was. Maybe it was time for me to move on.
Then I learned about a group called Digital Democracy. They were building a mapping tool called Mapeo with the help of Hypercore, a protocol for peer-to-peer data sharing. But this tool wasn't just for people who wanted to find the nearest coffee shop. It was being used by indigenous groups in the Amazon basin, people whose way of life was threatened by oil exploration. Mapeo allowed them to record the richness around them, from ancient burial sites to important food sources to ant nests. Eventually they were able to compile such a compelling argument for the preservation of their homeland that they won a lawsuit against a decision made by the Ecuadorian government that would have threatened their ecosystem; they currently live free from immediate danger.
That's when I realised that decentralised tech matters. No, it's not going to save the world, but it is a powerful, even transformative, tool in the hands of the right people. Mapeo couldn't have been done as a traditional cloud app — there's no internet out there in the rainforest. Only a peer-to-peer protocol was up for the task.
Two years later, I find myself at DWeb Camp, an event in north California hosted by the Internet Archive. All of us there have weathered many storms, from COVID to political unrest, and we've come out just a little disillusioned. But here, among colleagues, friends, and strangers, I find hope. It's not that the people here are untouched by the grief and confusion of the past two years — it's that they still believe we can move humanity's course in better directions.
Here, I meet people who recognise that the tech that's gotten us into such a nasty spot can also be used to help us create patches of light in the midst of darkness.
I hear Jill Burrows and Leanne Ussher of hREA describe the way our global economy creates flows of goods and resources that degenerate the health of ecosystems and communities, then offer a new way of looking at economies that could shift us toward regeneration using digital tools for whole-systems accounting. And I get excited when I learn that real groups are ready to use them for their sustainable textile, food, and electronics supply chain networks.
I listen to Ben Tairea talk about Āhau, an app he's creating with the help of Secure Scuttlebutt. Ãhau lets Māori families record and share their stories to keep them alive. For Ben, peer-to-peer tech is not just an ideological choice; it's deeply rooted in pragmatism. He tells me that "from our villages' perspectives, yeah, it was absolutely about — we want to have our own stories; we don't want to be putting them on these platforms; we don't want to be entrusting somebody else to hold onto that information for us. And we have heard horror stories of people that had been using different services that no longer existed, and so they lost their database."
I witness demos of Social Sensemaker and We, working examples of Holochain apps that help groups create healthy online social spaces to work and play in. These tools are built on peer-to-peer tech because, in the eyes of the projects' creators, that's the only way for a group to assert their power to create the software, data, and infrastructure that suits them best. We lets you cobble together little configurable applets — "generic tech, specific culture", in the words of Neighbourhoods founder Sid Sthalekar. Both of these projects aim to carve out areas of sovereignty in an internet where big platforms define the game and choose who can play, often leading to ideological polarisation and disempowerment.
I listen to DWeb Fellows from Brazil, Colombia, India, and Mexico share their experiences helping build community-governed internet and cellular networks where they live. These networks give indigenous and rural people access to the power of global connectivity while preserving their right to engage on their own terms.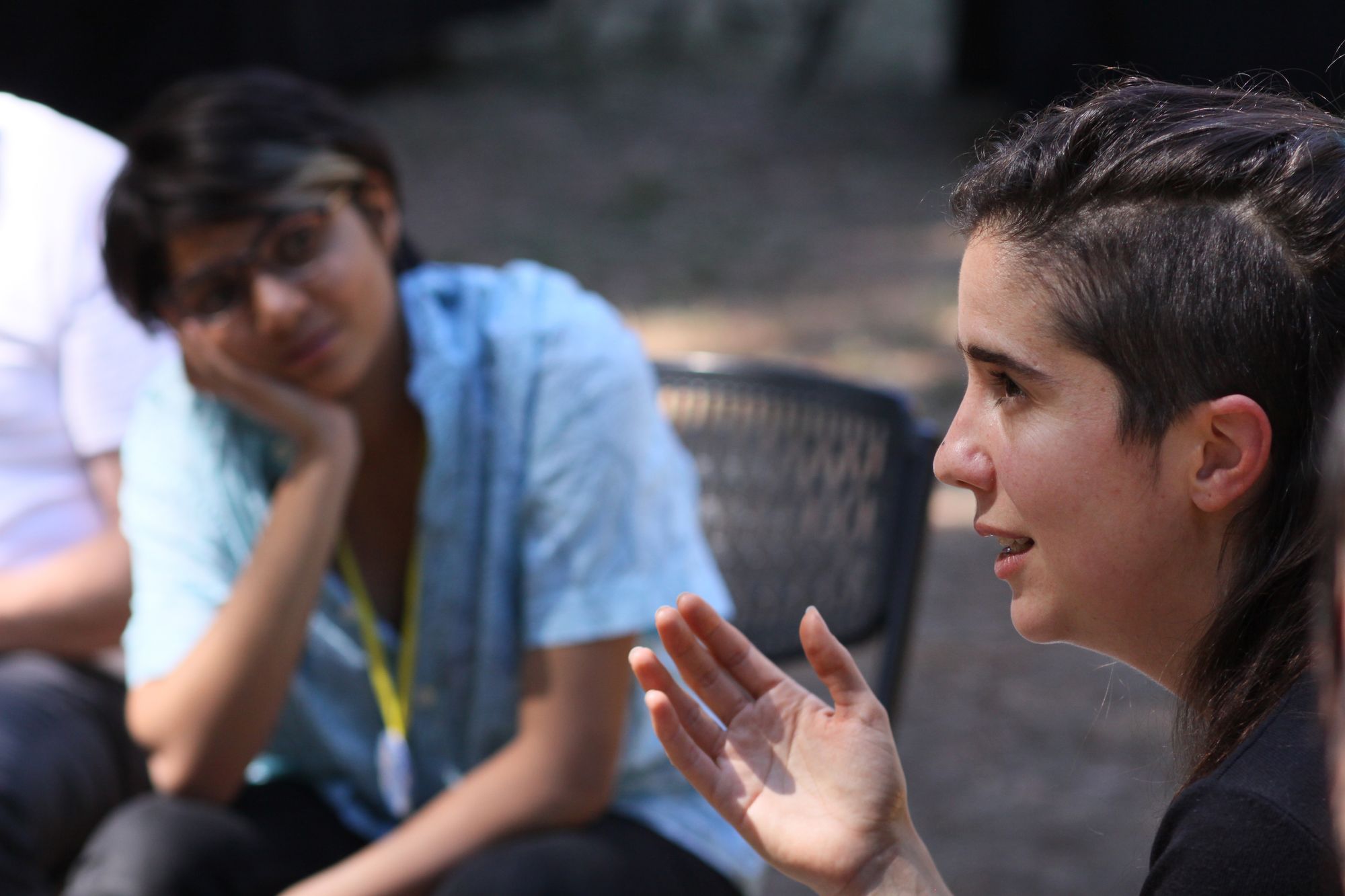 I chat with countless people who are devoting themselves to beautiful, courageous, demanding visions of a future they want to live in. Every one of their stories is a gift of hope that I will carry home with me.
I see people from all sorts of outlooks — not just rich white tech bros but children, wise sages, trans people, people from the global south and indigenous territories in the north.
One thing that I notice repeatedly is people building bridges instead of shouting at each other from their own islands. They arrive with open minds, ready to share and listen, ready to build a web with many winners. Scuttlebutt and Holochain folks show up at each other's workshops. People from various governance camps put their heads together to find new approaches to the wicked problems of the internet. And many people without a stake in any project show up to discover allies and tools that can help them in their journey to improve their corner of the world.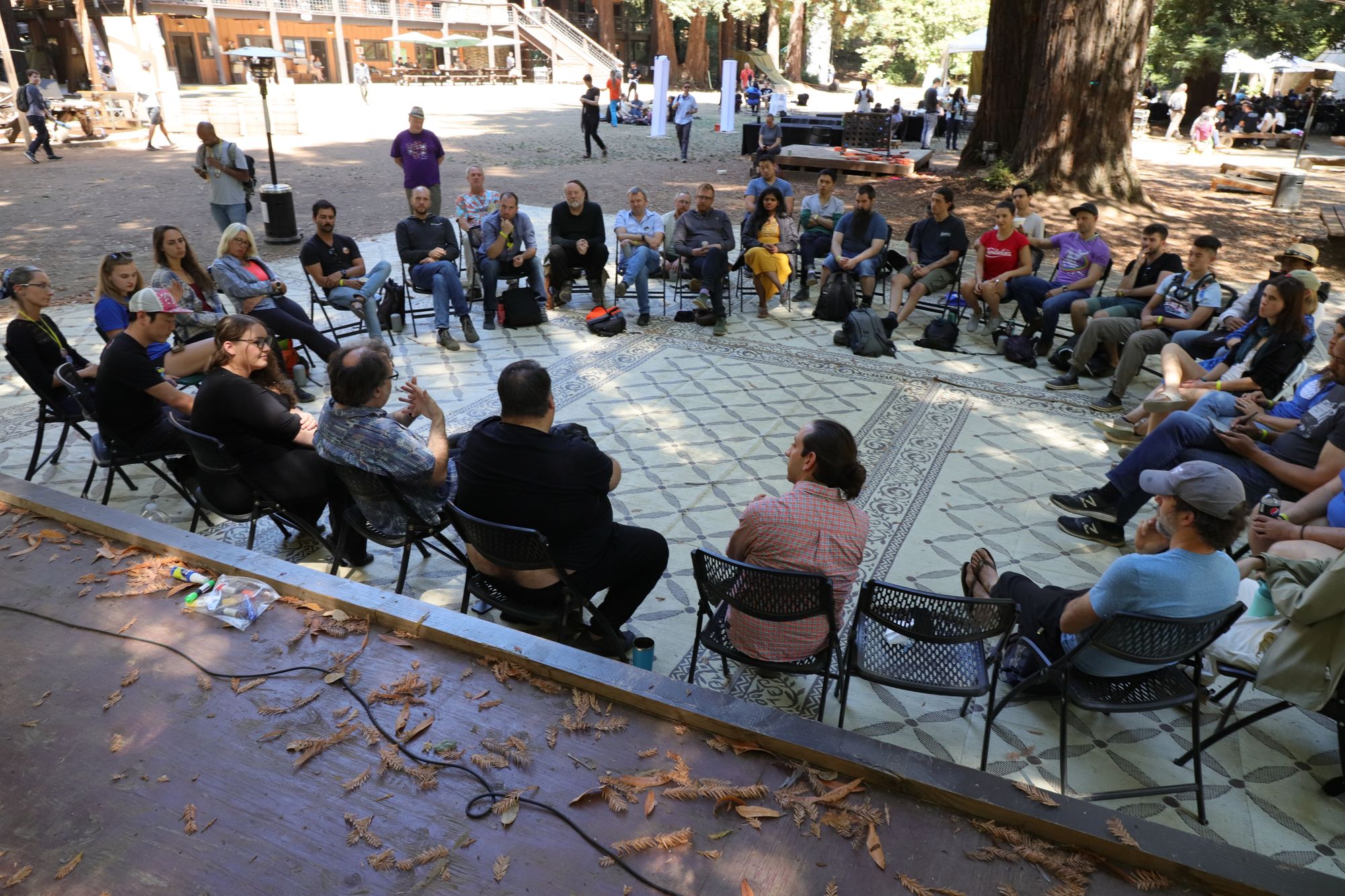 This feels different from DWeb Camp 2019 and the DWeb Summits that came before it. I'm not the only one to notice it; afterwards some of my colleagues echo the same feeling. We think things in the DWeb community are shifting — from solo acts to ensemble pieces, from head to heart, from thoughts to actions, from beliefs to relationships. This event both displays and nurtures that spirit, thanks in large part to the careful and heart-led work of Wendy Hanamura and her team of organisers, space stewards, and volunteers.
And that makes sense. We're here, not because of technology, but because of the things we want to see birthed in the world. Of course, we're united in believing the DWeb is a tool that can help our work immensely. But it's ultimately just a tool. We — you and I, and the rest of us — are the ones who are going to make change happen.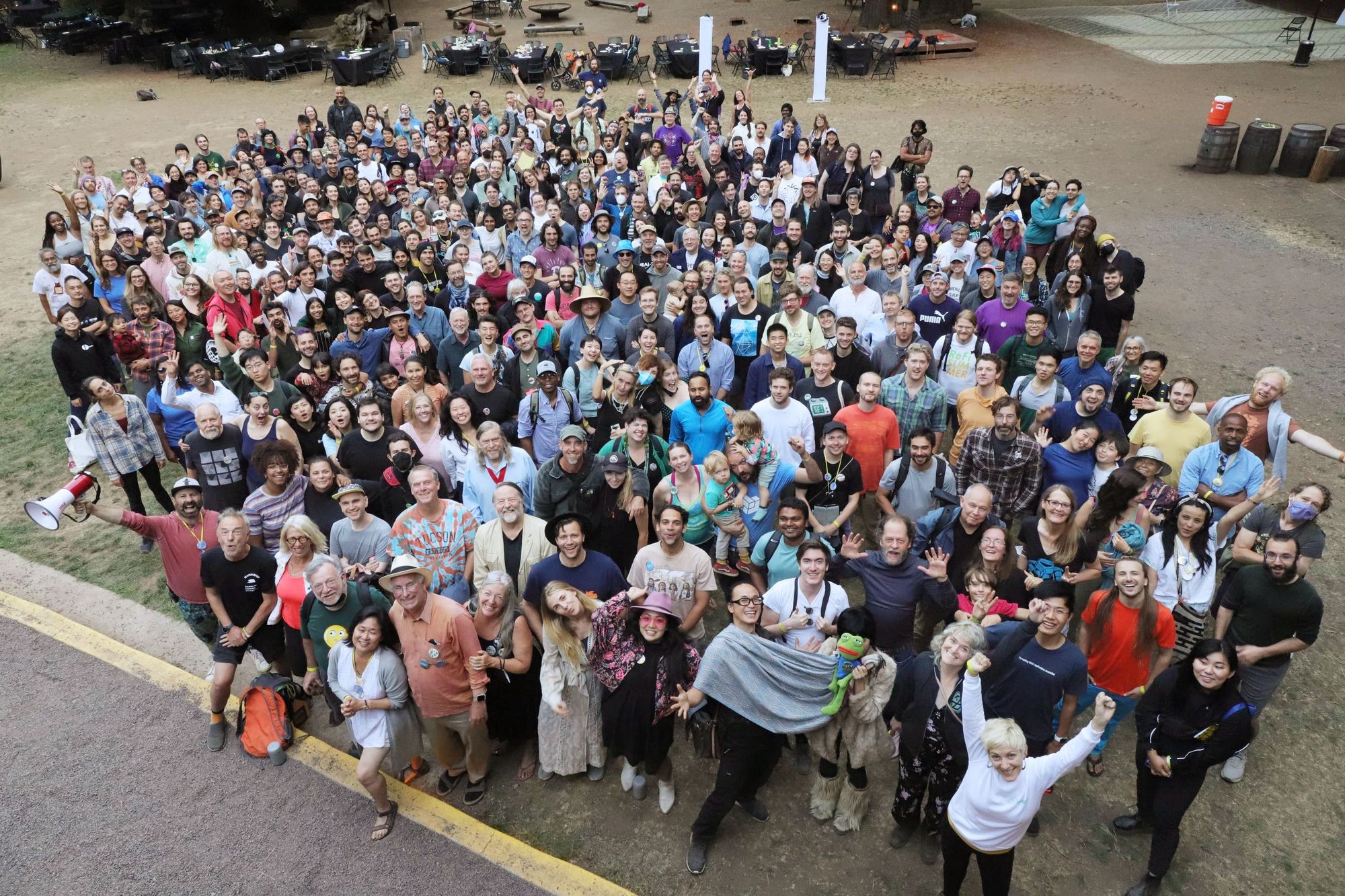 How about Holochain?
While I would love to focus entirely on the beautiful community spirit, I know some of you want to know what the Holochain community was up to. Here are some highlights, in no particular order:
Jill Burrows, Leanne Ussher, and Wesley Finck presented a talk and a workshop on hREA and its underlying ontology, ValueFlows, which describes itself as "a vocabulary for the distributed economic networks of the next economy". The workshop, which focused on practical applications to real economies, was attended by all sorts of people interested in regenerative economics, not just Holochain folks.
Jamie Klinger gave a lightning talk on the ideas behind Metacurrency and Deep Wealth.
Wes and Eric Harris-Braun gave a lightning talk on the organisational principles behind Acorn.
Emaline Friedman, Michael Hueschen, and Sid Sthalekar gave a demo of Neighbourhoods' Social Sensemaker engine that allows groups to define their own cultural and reputational norms in the form of metadata that can be calculated against contributions, then filtered and sorted. Once again, a lot of people from other projects showed up, which led to a lively discussion of how reputation systems can and should be designed.
Guillem Cordoba and Eric Harris-Braun gave a demo of We, showing how groups can create and customise their own spaces to communicate and get things done. I was particularly impressed by a toggle that lets you switch your UI from a group-centric perspective to an agent-centric perspective that shows information from all the groups you participate in.
Viktor Zaunders led a brainstorming session to identify useful applets to add to We. And once again, this event attracted people from outside the Holochain sphere. This led to small group discussions about one of my favourite topics — how to build bridges between different DWeb protocols.
Eric and Art led a discussion on governance in DAOs and other forms of organisations, along with the tools and processes needed to support them.
Paul Krafel, an unwitting mentor of many people in the Holochain community through his book Seeing Nature, held a Q&A about his book and led a few exercises in learning to see flows in nature and human interactions.
Eric Bear gave from his heart as a volunteer and Space Steward, organising event schedules, helping people feel supported, and generally cultivating a feeling of care and connection among participants.
I took lots of photos and videos for the Internet Archive — I even got to film an impromptu wedding!
Some of us participated in a meet-and-greet session — Marcus (the lead facilitator of our recent Developer Immersive) and his partner Kaitlyn treated everyone to charcuterie and we all got to share what Holochain is about with anyone who was curious.
Every one of us found ourselves in many conversations about a thousand subjects — governance, education, economics, sovereignty, and of course Holochain.
After DWeb Camp ended, the Internet Archive graciously lent us space in their San Francisco headquarters so the remaining participants could plan the future of Holochain and its community together.
Postscript
I want to leave you with this piece I recorded at DWeb Camp called Five by Four, performed by the Del Sol Quartet and written by their violist Charlton Lee. As you listen to it, pay attention to the story the musicians are telling. At first, it almost seems confused, as if they're trying to figure out how to play with each other. The notes don't fit quite right. Some are playing in 4/4; others in 5/4.
As the piece moves on, the apparent discord begins to resolve — gradually at first, then rapidly. Rather than give up their individual perspectives, they blend them together in an upward spiral of greater coherence, greater beauty. Some are still playing 4/4 and others 5/4, but their contributions only add to the richness; each individual gracefully dances with the rest of the ensemble.
And I love watching their body language. The subtle glances, the smiles and grimaces, the moment-to-moment changes of bow and finger. There's no leader to keep them all in sync, and the sheet music only gives the notes. The music comes alive because of these human signals, carrying a much higher bandwidth than conductor or ink could.
For me, this piece tells the story of the DWeb, both the present moment of the people building it and the rhythm and notes of the societies we hope to help nurture. We're growing in our capacity to cooperate, and I think that's an important prerequisite if we want to help the world do the same. Let's hope that we may continue to build bridges, connect our islands, come together to create many ensemble pieces.