Summary
In each Community Matters, we will be featuring one of the contributors, supporters, movers, catalyzers, and influencers who are changing the ecosystem in amazing ways.
We are excited to highlight some of the exceptional, talented, community contributors who are helping us build a more distributed web. In this edition, we are spotlighting Taylor.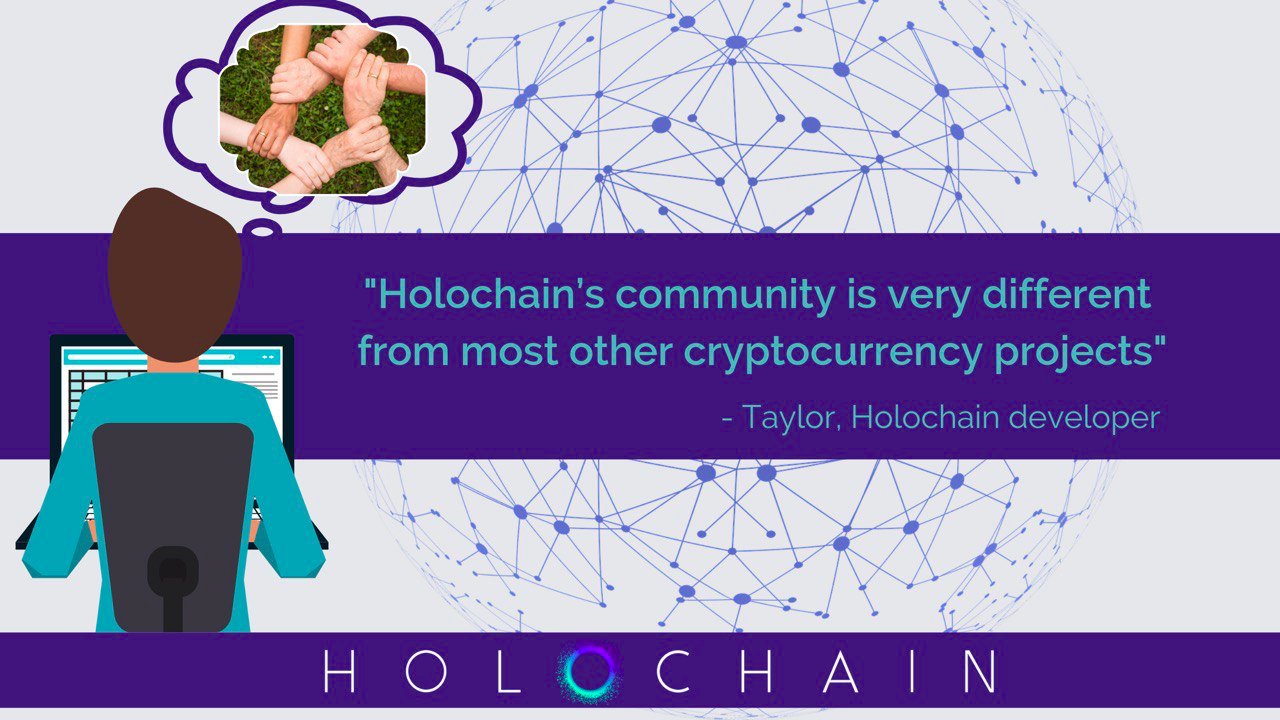 About Taylor (@mightyalex200)
My name is Taylor and I'm a Holochain developer. I'm currently working on a hApp called Comet. My interest in decentralized systems began at a young age; I just looked at the server-client architecture as inefficient and flawed. I was first introduced to cryptocurrency technology with Ethereum when it was new and promised a "global computer." I was naturally drawn to it, but eventually realized that it was not going to fulfill its promises because it was too slow and expensive. That's when I found Hashgraph and began thinking that it would solve all of the problems of Ethereum because it was faster and required no mining or work. I eventually found Holochain, which broke all of my previous assumptions about decentralized technology. It allowed fast and secure decentralized networks with no bottlenecks by asserting that consensus was not needed for decentralized networks — and the best part was that it had nothing to do with cryptocurrency, despite being in the same space as projects like Ethereum and Hashgraph. I think Holochain is the future of decentralized technology and I'm very glad to be a part of it.
Why did you choose to get involved in the community work of Holochain as opposed to other projects?
Holochain's community is very different from most other cryptocurrency projects. Usually, there are a ton of people saying stuff like "when moon," and discussions are about prices or getting listed on trading sites. I don't care about any of that stuff; I just want to be a part of making and using a great technology that's focused on helping people. While the Holochain community certainly has some people like that, they're a distinct group from the developers and other members who actually care about the technology and want to see it succeed for more than just the sake of their bank account.
Check out the audio interview.

#Holochain for Beginners | Episode 3 : Why are Holochain Applications Different?
---
Zome Explorer v0.1.0 demo and setup instructions (built by Robbie from Hylo).
Zome Explorer is a tool for interacting with a running Holochain instance. 
Code and more info here: https://github.com/Hylozoic/zome-explorer
Community Request: In your own words, how would you describe Holochain and Holo? Fill out this survey.

Recent Event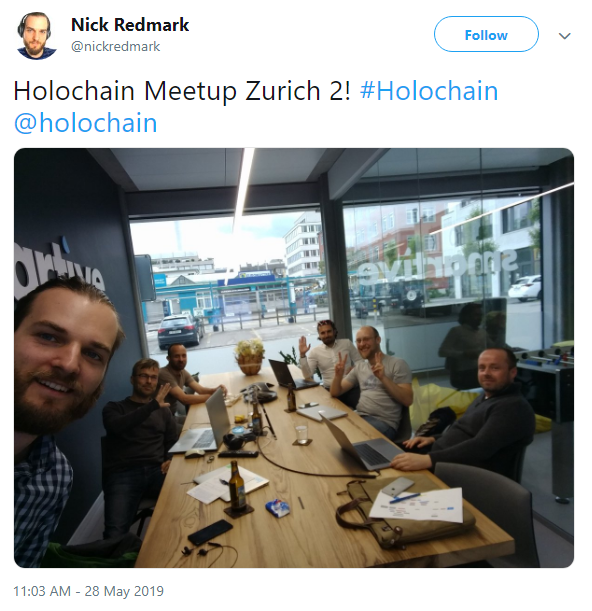 Upcoming Events
[Switzerland] Wednesday/Friday, June 5–7
Fair Hackathon programme. 
Reserve your stay: https://synergiehub.ch/reserve-stay.html
[Paris] Thursday, June 13
Vous aviez enfin compris la blockchain ? Dommage, voici l'holochain ! | Futur.e.s 2019
For upcoming events check our meetup calendar.
Get involved! Connect with your local community on Mattermost — our open-source chat platform — or become an Organizer of Community . Reach out to us at events@holo.host. We'll help you with your DevDinner, Meetup, Presentation, or Workshop!

What We've Heard: Comments and Thoughts from our Channels
---
Check out the community-driven website created by our Chinese Community.
From Jon and Leo (the website creators):
HOLOFANS is an all-in-one Holochain information website initiated by Leo, a member of the Chinese community, as a platform to serve his group. The site will translate and integrate all important information relating to Holo and Holochain from various sources, including community content creators, official announcements and articles, and reports published by third-party institutions.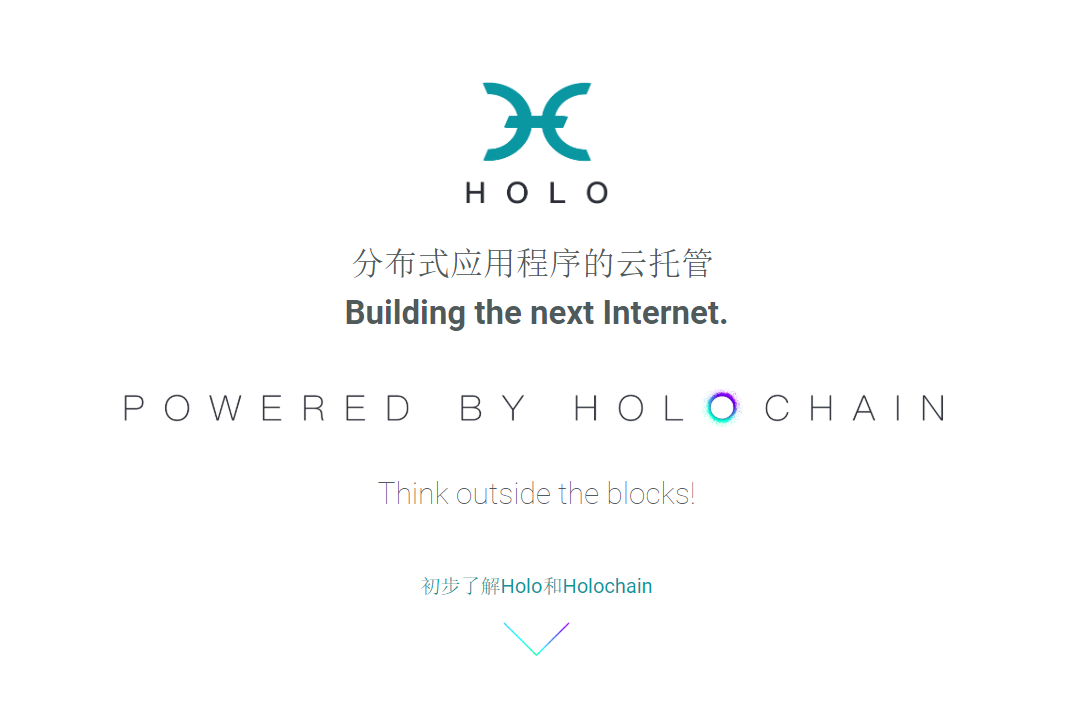 Join the conversation and engage in the community on all our Channels! (Mattermost, Reddit, Telegram, Twitter, Facebook, YouTube)

Holochain Wins Disrupter of the Year Award 2019 at the Malta AI & Blockchain Summit!
Check out our Weekly Round Up 01, 02, 03, 04, 05, 06, 07, 08, 09, or 10
We'd like you to share media articles or mentions that you think are newsworthy enough to be highlighted on our channels (Reddit & Telegram).

Join us at the next AMA, No. 27. This AMA will be with David Atkinson, Co-founder Arthur Brock, and Matthew Schutte on Tuesday, June 11th at 6PM UTC (2PM EST) on Youtube.
Check out our YouTube playlist to watch previous AMAs.
Let's discuss how we can address these issues together. We'd love to hear what you think! Start a new topic in our Community Feedback Forums.

Experience who we are and what we're working on up close!
Feranada's Holo(chain) Journey: Part 1 of 2
Ferananda Ibarra, Culture Consultant at Holo and Co-Director of the Commons Engine is a visionary, social innovator, and regenerative entrepreneur. Her background in collective intelligence, integral theories, and deep wealth design inform her creativity and facilitation of systems and organizations that can address our global challenges.
One of my superpowers is harmony. I like to bring things into harmony. I mention that now, because a lot of where my focus has been, has been on the interiority of systems.

There is help for you on your learning journey — check out these HOT Topic FAQs and Resources to dig deeper!
The HoloPort is labeled as "plug and play." What degree of responsibility, if any, does a HoloPort host have over "network security?" That is to say, what specific cares and concerns might HoloPort operators have regarding the maintenance of their Holochain (security)? Should operators presume at least some sort of cursory knowledge regarding web-hosting in general?"
Our hope is to make this as automated as possible. It starts with nixOs as the operating system for the HoloPorts — deterministic, hashed, automatically upgrades to prevent unwanted code execution on the device itself, and keeps itself up to date as far as security patches are concerned.
The management cryptographic keys on the device will be a prime responsibility of the operator.
Regarding DDoS, we will be implementing mitigation strategies on individual nodes as a matter of course, but realistically, what does a distributed attack look like in terms of a distributed hosting platform? How many nodes do the attackers control relative to the number of hosts in your network? The distributed nature of Holochain itself is resilient to DDoS attacks.
---
Holochain Developer Documentation
Holochain is a framework for building and running secure, fully peer-to-peer distributed apps.developer.holochain.org
Frequently Asked Questions | Holo
Holochain invites people to think outside the blocks, so it makes sense that folks have a lot of questions about how it…holo.host
Visit our growing Solutions Knowledge base to learn more.

We believe that the key to our success is in building our community — the moments that matter most are in the connections within and between our communities. None of this would be possible without you! Thank you for showing up and sharing your unique talents with all of us. You work so hard to bring awareness and engagement to the Holo and Holochain communities, and we are thankful for you!