Summary
This week's Dev Pulse is an update from the hAppy Team on how they have been improving the customer experience for HoloPort owners. Now that we are getting real-world experience from users, they are starting to redesign their processes to incorporate feedback, issues, pain points, and bug reports into how they get work done. As more apps launch on the network, internal teams will continue to connect the dots between what customers are experiencing, what Customer Service is hearing, what code is being written, and how issues are being resolved.
Highlights
Fixing the Quickstart page
How the hAppy team gets things done
Moving forward
Details
The hAppy Team has been working hard to improve Holo's user experience. Part of the user's journey involves interaction with Customer Service. Recently, many of us here at Holo (including the hAppy Team members) have been detailing our processes and how developers, customer service staff, internal teams, and end-users communicate and work together. We thought it would be beneficial to describe their work, telling you how the hAppy Team is contributing to an excellent support experience.

Fixing the QuickStart page
To get a sense of the hAppy Team's involvement, let's look at the HoloPort Quickstart page, the process you go through to get your HoloPort registered on the network. Because the site is not optimized for mobile, the hAppy Team wanted to prevent people from using a mobile device to register their HoloPorts. The page would recognize when users were running Quickstart on a mobile device and give them a clear message to continue only when using a PC or laptop.
The only problem was that the page did not have an effective test for mobile devices. Some PC users were flagged as mobile users and completely blocked from using Quickstart. Many of these people contacted Customer Service via Freshdesk because they were unable to proceed with registration. This issue was quickly escalated to the dev teams.
The hAppy Team made the Quickstart problem their top priority, with everyone on the team involved in delivering the changes as soon as possible. Luckily, the HoloCentral Team had the foresight to make it easier for the hAppy Team to deploy changes to Quickstart without needing to wait for a deployment from them.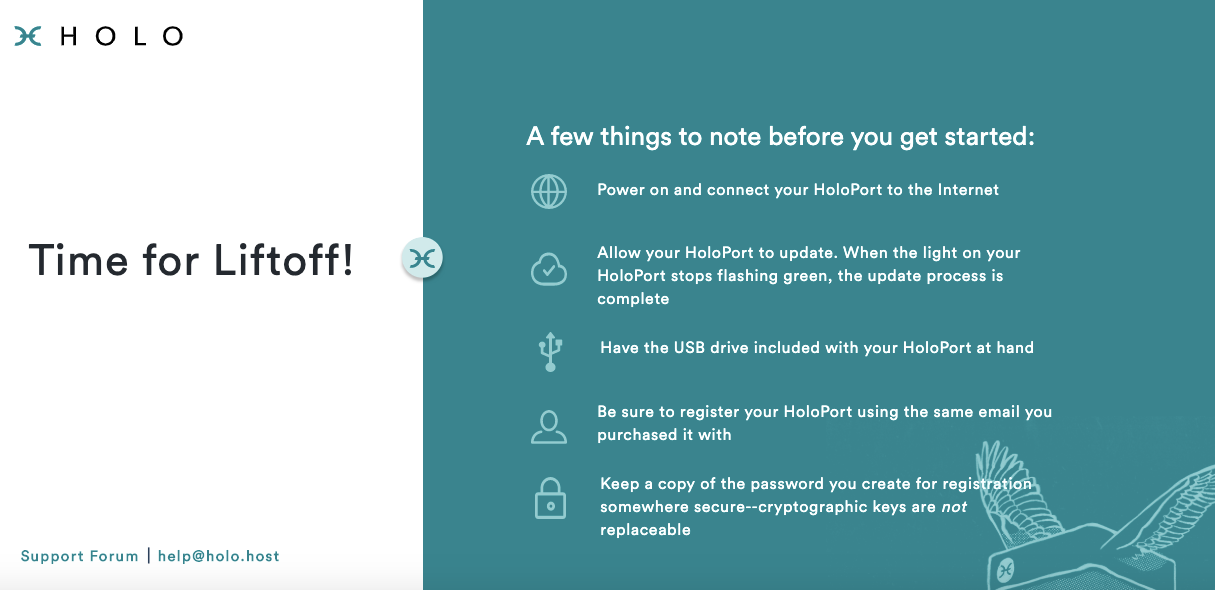 For this change, Lisa worked swiftly with Celestial and Rob (hAppy Team Product Owner) to nail down the requirements and copy. She then implemented the fix right away. To deploy, two reviewers were needed—one from the HoloCentral Team and one from the hAppy Team. Fortunately, Joel, one of the hAppy team developers, currently works on both teams. Lisa recognized the opportunity for Joel to satisfy the HoloCentral review requirement and Joel swooped into action, while Robbie reviewed on the hAppy team side. As a result, the fix went live in a matter of hours, thanks in part to great coordination and the HoloCentral Team's efforts to streamline deployment.
How the hAppy team gets things done
Up to this point, the hAppy Team has focused on theoretical approaches to what would be helpful for HoloPort owners. Now that we are getting real-world experience from users, they are starting to redesign their processes to incorporate feedback, issues, pain points, and bug reports into how they get work done.
Currently, we coordinate and communicate via Mattermost (chat) and the Holo Forum, as well as our daily check-in meetings. Our process for handling customer service issues is as follows:
Tier 1: We receive issues and feedback from Holo Forum posts and Freshdesk emails. Over 80% of these issues and inquiries are resolved at Tier 1. Examples would be users without a tracking number, unable to sign up for the Forum, non-technical Quickstart issues, or hardware-related questions that are addressed by FAQs.
Tier 2: Anything that can't be resolved via emails, FAQs, or Holo Forum responses will go to Tier 2, where customers can schedule (via calend.ly) a 15-minute live call with our support team. The support team will help them arrive at a solution.
Tier 3: If Tier 2 is not able to handle the issue, it then goes to the dev teams. The issue is prioritized as a bug and handled accordingly.
Moving forward
The initial launch of the Holo Network Alpha Testnet was largely focused on the hardware and firmware, as well as getting HoloPort owners on the network. We are now steadily moving to a software launch, where hosts will interact with the HP Admin (HoloPort Admin), Communities (chat app), and HoloFuel app. There will be more launches and releases to come, in addition to more hApps coming online. Again, as that happens, we will incorporate what customers are experiencing into how code is written and issues are resolved. Linking these things together will help us deliver an exceptional customer experience and make significant improvements to the Holo network.
Holochain Core Concepts and Tutorials
We want to hear from you! Help us create documentation that would benefit your understanding of Holochain and aid you in building apps. If you have already read, explored, or completed the Holochain Core Concepts and Tutorials, we would appreciate your input through this quick survey! Please take a moment to tell us about your experience and how we might help you further!
Development Status: