Wow, what a week!
Holochain participated in this year's build week (BUIDLWeek) at ETHDenver, and we can only call it a rousing success. We hosted four separate events with over 500 total registrations between them and some 100 people we met and worked with over the week, showing great interest in what we are building. With Beta live and Holochain growing, this was a fantastic opportunity to grow the community, help people build, and collectively imagine a new future.
ETHDenver?
You've seen us talking about ETHDenver and our participation there for the last month but without any broader explanation of what that means, so let's take a second to add a little background.
ETHDenver, hosted by SporkDAO in Denver Colorado, is a week long unconference with a preceding "BUIDL"  week focused on software building. Over the past several years it has become a major annual gathering point for Ethereum and Web3 enthusiasts. It includes two weeks of events hosted by numerous Web3 organizations across the city of Denver, with opportunities for networking, learning, business development, and building the next web.
We know that Holochain sits on the edge of this world. We aren't an Ethereum project or even a blockchain, but we are building a decentralized (and distributed!) framework for applications alongside the rest of the people working on what many refer to as Web3.
This was an opportunity to show the Ethereum community a different way of doing Web3, and seek ways of integrating the unique capabilities of the Ethereum blockchain and Holochain.
Intentions
A few of our team had been to ETHDenver in the past as individuals, but we've never hosted our own events there before. Why now?
Well, a big part of it is Beta. We have a usable product and are finally turning our energy outward and working to grow our community. We need experienced developers with an understanding of distributed frameworks and an entrepreneurial spirit. The Ethereum community has people who meet that criteria.
EthDenver also gave us the opportunity to sample the Web3 movement so we could hear first hand both what is alive and what needs people have. We want to build critical infrastructure for developers and to help them create innovative businesses that meet real needs. Learning about people's pain points and what other projects are doing is an important part of doing that well.
We've never done events of this sort and size before, so running these events also felt like a testing ground for our new dev tools and the organization as a whole. More on that later but, let's just say we learned a lot!
Finally, we wanted to connect with our local Colorado community, devs and non-devs alike.
The events
We hosted two different types of events, our build days and an open space.
BUIDL Days
We hosted three build days where we gave developers a first-hand experience of Holochain.  These day-long events were the perfect opportunity to test out our new scaffolding tools and help people build cool things.
Check out this video of a participant describing his first impressions of Holochain.
Imagining Web 2030: Open Space
Our open space event was centered on the web of the future, attracting over 70 participants who came together to think deeply about the web we want to build.
An open space format doesn't feature a single presenter, but is rather based on a set of breakout sessions where any participant can host a topic of conversation. This fosters a lot of focused discussion while enabling those who are natural pollinators to share ideas between groups.
We were inspired by the community and their questions. There were sessions on topics such as:
"How has centralized technology unconsciously shaped what we believe is possible?"
and
"How do existing laws, policies, and governance models need to change to support a human-centric web?"
We really think this is just the start of many more conversations to come.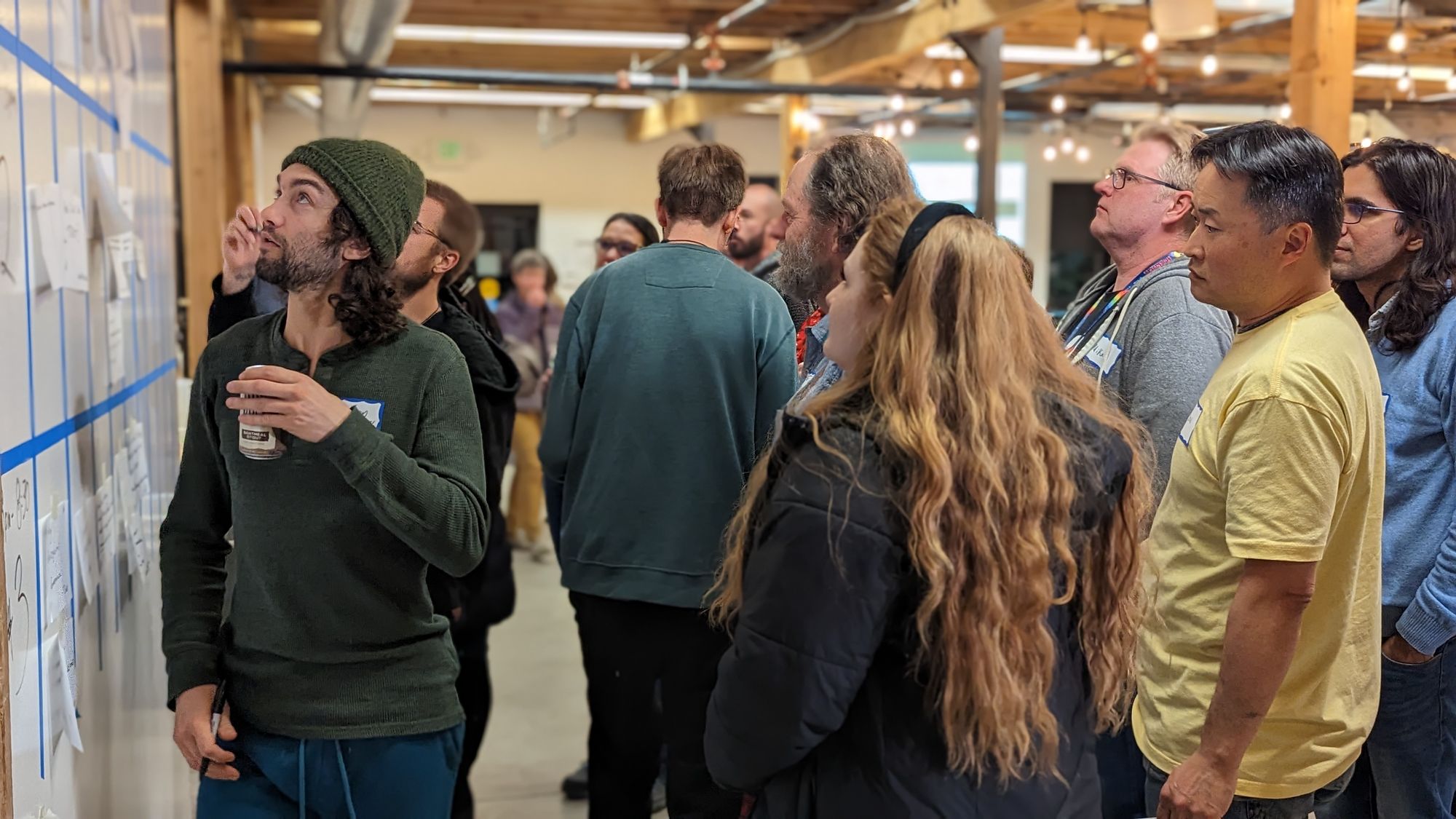 What we learned
With developers hammering away at our new tools for three days, we quickly learned a lot about setting up dev environments for new users' needs, running the scaffolding tool, and the best ways to guide people through building on Holochain. Often, these devs came from different backgrounds in software development, engineering and distributed tech.
As an organization we are all about iterative processes. This meant that the three build days were the perfect testing ground for our teaching processes, Holochain Beta, the install configs, and our new rapid application development (RAD) tools.  
While we are still integrating many of these learnings, some potential outcomes include:
Open office hours on Discord to help new devs get set up
Online build events of various skill levels
Systems that support local files for install downloads when hosting hackathons
Integration of the 'how-to' in build days and 'why bother' in exploration events
Similarly, we learned a lot about how to improve the way we run events in our new beta landscape. From calculating how much space and food we need to plan for based on sign-ups, to the information we need to include on event onesheets, but most of all we took another step in learning about our community. Both those of you who have been with us from the beginning, and those just learning about our work.
We plan to take all these lessons and ensure that future events are better, smoother, and more exciting. That is the nature of iterative growth.
We are excited to be growing alongside you.
Sign up to our newsletter for more events and happenings at Holochain