Summary
In each Community Matters, we will be featuring one of the contributors, supporters, movers, catalyzers, and influencers who are changing the ecosystem in amazing ways.
We are excited to highlight some of the exceptional, talented, community contributors who are helping us build a more distributed web. In this edition, we are spotlighting Dima Barbarchuk.
Just in the past week we've held the first Virtual Community Get-Together, the first Community-run DevCamp, and the first Live-Translated AMA. Over the weekend, the Hackathon in Prague gathered both new and returning folk to create a rich experience for all. These events were run by teams of community volunteers sharing their skills, knowledge, and care. In the spirit of celebration and appreciation — Thank you!

About Dima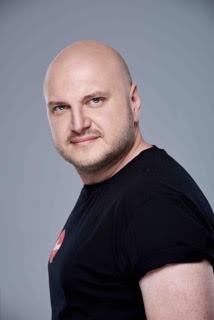 Dima Barbarchuk, , from Kyiv, Ukraine, is both an entrepreneur and a dreamer. He is the founder & CEO of ChePeer, a human-centric international P2P fashion shopping platform. ChePeer's economy creates jobs for the future in the fashion industry and enables anyone to make money. Anyone — regardless of age, location or technical skill — can publish bargain deals they find on ChePeer's platform and receive 3–5% of the item's price. ChePeer allows customers to discover the best bargains and save money on cross-border shopping.
Dima earned three degrees in higher education: finance and financial management services, public administration, and law.
He launched and developed businesses in the field of tourism, real estate, pharmaceutics and consulting services. Later, he devoted several years of his life to public service working for the government before returning to his entrepreneurial pursuits.
Why did you choose to get involved in the community work of Holo, as opposed to other projects?
I believe the governments are corrupt and are already dying. The gap between what governments are and what we need them to be is intolerable for too many people. The only real alternative I see is in building the next generation of self-governance. In order to meet our needs and reclaim power, it will need to be a P2P network and run in a fully distributed manner. This system will be so different from how we currently think of government, that it might be better imagined as a kind of social network.
So, how do we get to the next generation of governance?
Interrelatedness, diversity, and creativity are patterns of nature; Paul Krafel says "Water has the power to create soil; water has the power to wash it away."
This intelligent design is reflected in Holochain's team mindset & technology architecture.
Through wise use of Holochain technology, people are able to move from fragmentation to interrelatedness. Decentralized virtual platforms have great potential to democratize value creation and exchange. By using complementary and reputation currencies, communities create transparent mutual exchange systems that do not operate under the spell of compounding interest, and thus develop a more cooperative culture.
Our team dreams of a world where cryptocurrencies have risen to new levels of common usage and integrity. We imagine global and local economies rooted in P2P value networks and governance, and with easy access to mutual capitalization. People would have the ability to easily transfer resources where they're needed without being gouged by foreign transaction fees, ATM fees, wire fees, delays, and paperwork.
I think a major step toward this dream becoming a reality is networks of value-stable, asset-backed crypto-credits rooted in Holochain design principles.
What accomplishments, highlights, or goals would you like to share regarding the growing and expanding the community?
Our attention creates energy and our energy creates life. I put my efforts towards connecting people and resources in new conversations about building real alternatives instead of chasing expired political strategies.
Accomplishments:
Launched the first Holochain Meetup in Kyiv, Ukraine
Worked with Holchain team to create "ChePeer Validated Learning" use case — A cultural pattern which encourages startups to pursue their goal without fear to fail, while at the same time creating products with a high survival rate that customers love
Organized the first Holochain AMA with live Russian translation → Watch it here!
Goals:
Engage Ukrainian RUST-developers and startups in the Holochain ecosystem via ChePeer's process of development
Check out the full interview:

Content Highlights for the Community, by the Community
https://www.ourworldthegame.com/single-post/2019/08/14/WORLD-EXCLUSIVE-Holochain-Talking-To-Unity
Check out the Holochain Identity Manager Demo and learn how you can manage your agent keys across multiple devices!
If you haven't already registered on the Holochain Developer Forum, sign up here to participate in community discussions, ask technical questions, post about your projects and upcoming events!
Community Request: In your own words, how would you describe Holochain and Holo? Fill out this survey.

Upcoming Events:
Upcoming Events:
[Singapore] September 12th, 2019: David Atkinson will present about Holochain and Philip Beadle will do a live-demo of a Holoport @ Unstack the Stack Series: Holochain & bloXroute!
[Barcelona] September 12th, 2019: Join Holo team members Eric Bear and Carolyn Beer at the community organized event in Barcelona to connect with other Holochain enthusiasts!
[Online — Holochain Forum] September 18th, 2019–21:00 UTC: Holochain Dev Q+A with Philip Beadle. Topic: From an app development perspective, what is the difference between Holochain and Holo? Post your code prior to the session!
[Online] September 26th, 2019–11:00 UTC: 2nd Online Get-together — a space for Holochain Community Members from around the globe to meet ~almost~ in person to connect, share, and explore the Holochain Ecosystem.
[Barcelona] September 26th, 2019: Holochain round table discussion about the different apps that are being created by Holo. We will learn more about these apps and how we can use them as building blocks for our own projects. As always, there will be plenty of time for questions and discussion!
[Vienna]: September 29th, 2019: Join other community members at the upcoming Dev Dinner for a lively discussion about Holochain, good food and networking!
[Online — Holochain Forum] October 2nd, 2019–21:00 UTC: Holochain Dev Q+A with Philip Beadle. Topic: "How-to" integrate your app with Holochain's identity manager. Post your code prior to the session!
Past events:
[Prague] September 6th-8th: Check out photos from our latest Hackathon!
Find your local Meetup group @ https://www.meetup.com/topics/holochain/all/.
Tag your Meetup page with "Holochain" if your group is not listed.
To stay up-to-date with all upcoming events visit the events page!
Get involved! Share your event, connect with other organizers and post photos from past gatherings on the Holochain Forum Events page. Reach out to us at events@holo.host. We'll help you with your DevDinner, Meetup, Presentation, or Workshop!

What We've Heard: Comments and Thoughts from our Channels
Content Highlights for the Community, by the Community:
Congratulations to RedGrid for wrapping up the equity round of their crowdfunding campaign: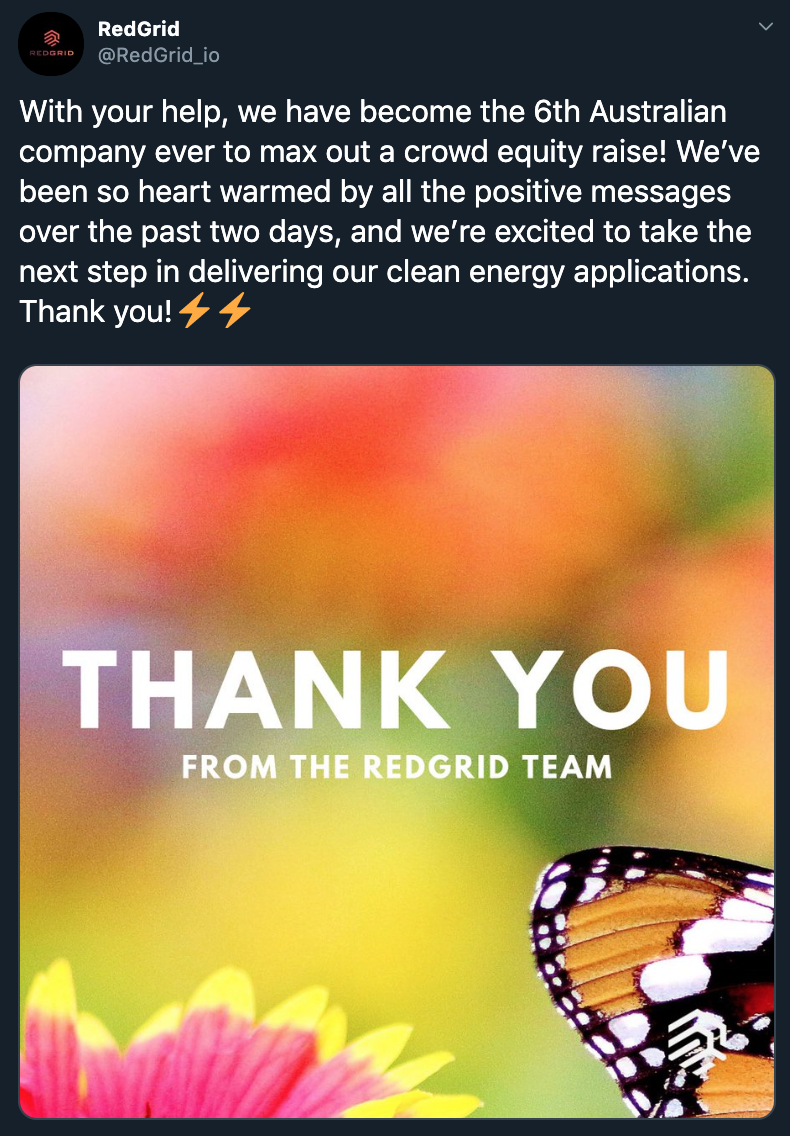 Watch RedGrid's livestream with David Atkinson from September 4th at the close of their successful crowdfund:
RedGrid @RedGrid_io
RedGrid (@RedGrid_io). On a mission to provide clean low-cost electricity to all by building the #InternetofEnergy…www.pscp.tv
Check out the updates from community organizer Jakub Lanc at Rebooting the Web-of-Trust: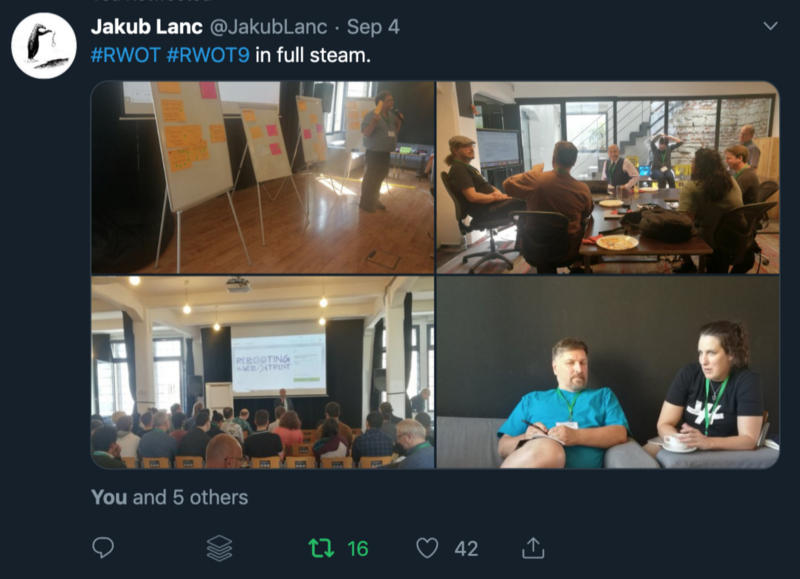 Credits Blockchain Platform's AMA from September 1st featuring Holochain:
Watch the recording from Transhumanism Sydney's Meetup (8/29) where Nathan Waters gives a presentation on Holochain!
Join the conversation and engage in the community on all our Channels! (Mattermost, Reddit, Telegram, Twitter, Facebook, YouTube)

HOT included in Samsung Galaxy S10 complete list of cryptos and dApps
Check out our Weekly Roundups 22, 23, 24 or 25
We'd like you to share media articles or mentions that you think are newsworthy enough to be highlighted on our channels (Reddit & Telegram).

Join us at the upcoming AMAs:
September 12th, 2019 14:00 UTC: Forum AMA with Sacred Capital Team
September 26th, 2019 16:00 UTC: Forum AMA with Junto
Check out our YouTube playlist to watch previous AMAs.

Experience who we are and what we're working on up close!
Holochain Community Matters: Meet The Team — Micah Jefferson

There is help for you on your learning journey — check out these HOT Topic FAQs and Resources to dig deeper!
Visit our growing Solutions Knowledge base to learn more.

Spiraling upwards together
After the latest Hackathon that took place in Prague, a community member shared that they felt something changing in the community. They shared, "the community feels solid."
We feel this way too.
Yes, the community is growing in size and number, but something more important is growing. The relationships at the core of the community are growing deeper and richer. We're creating a culture together and it's that depth and richness from which we're seeing fruits.
With gratitude and love from a magical AirBnB in Barcelona,
Carolyn and Bear