Summary
In each Community Matters, we will be featuring one of the contributors, supporters, movers, catalyzers, and influencers who are changing the ecosystem in amazing ways.
We are excited to highlight some of the exceptional, talented, community contributors who are helping us build a more distributed web. In this edition, we are spotlighting Adriaan and Guillem.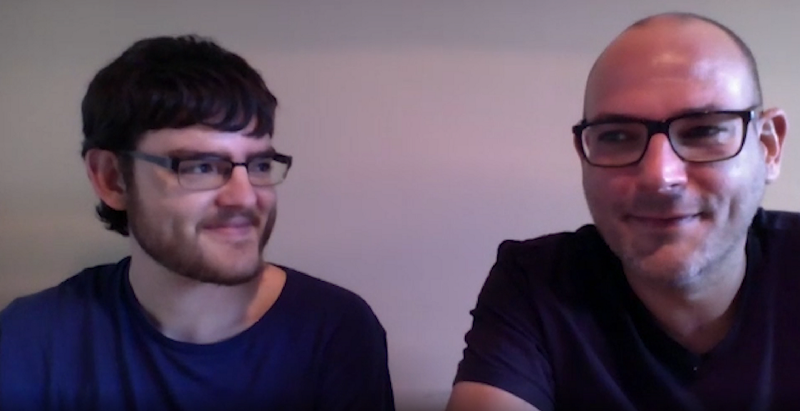 About Adriaan
I am Adriaan, a web application developer from Holland living in Barcelona. I have been developing websites, games, and applications since early 2000. I think the current web has become too centralized and we are now seeing its cracks and negative effects on society. Holochain and Holo offer a new paradigm for how we communicate, collaborate, and move the web and humanity forward.
About Guillem
I am Guillem, a web developer from Barcelona. I became interested in decentralized technologies about 2 years ago when I learned of their potential to build new communication patterns. Since then, I've followed different projects related to DAOs, and became fascinated by Holochain when I found out about it. Now I'm working to build Prtcl, hopefully on Holochain.
Why did you choose to get involved in the community work of Holo, as opposed to other projects?
Adriaan:
Holochain's agent-centric model made so much more sense to me when compared to blockchain's data-centric model.
After participating in two online DevCamps, it became clear to me how easy it is to develop something on Holochain.
I wanted to meet like-minded people and learn more about Holochain.
Setting up a Meetup group is a quick and easy way to start a community.
A developer community is a great way to learn from one another, share knowledge and ideas, and create new connections and collaborate on different projects.
I see my role as a facilitator and creator of space for the community.
Guillem:
The inspiration from nature and the patterns already present in our environment immediately struck home with me.
It was easy and exciting to start building and playing with the technology.
The community was very inviting from the first moment, and the motivations around it resonated with me greatly.
I wanted to get in touch with people and projects in the decentralized collaboration space.
I see my role as a facilitator from a technology point of view, making it easy for others to access Holochain, and bringing people together through common interests.
What accomplishments, highlights, or goals would you like to share regarding growing and expanding the community?
We have organized six Meetups to date; the seventh will take place on June 20th.
We've experimented with different formats and try to do something new at every Meetup.
Our community is slowly growing and we are starting to have a core group of members who join regularly.
Some of our members are actively working on Holochain projects.
We got invited to give a workshop for the Ethereum Dev Community.
This year we are planning to organize a multi-day DevCamp.
We hope to have our own space in the future, where we can work together on Holochain projects and organize more events on a regular basis.
Check out the video interview.

Holochain Presentation by Javi at iPic2019:
---
Here's one of top three submissions from the community-led Infographic Contest that ended on June 30th, 2019. Great work everyone — our community is so creative! Congrats to the infographic contest winners!
Community Driven Infographic Contest: Submission by Andrés Morales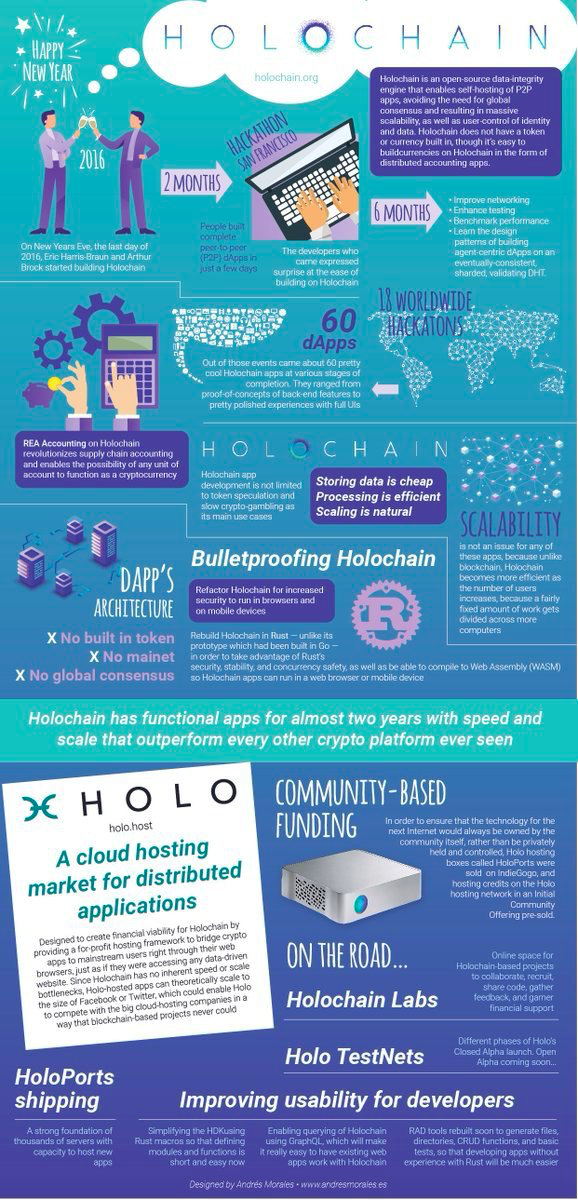 Community Request: In your own words, how would you describe Holochain and Holo? Fill out this survey.

Recent Event
Zürich Meetup with Art Brock and Eric Bear
Vienna Meetup with Art Brock and Eric Bear
Upcoming Event
[Melbourne] Wednesday, July 24, 2019
Meetup #4 — WORLD FIRST. Holoports, hApps.. and now, Holonix!
---
Find your local Meetup group @ https://www.meetup.com/topics/holochain/all/.
Tag your Meetup page with "Holochain" if your group is not listed.
For upcoming events check our meetup calendar.
Get involved! Connect with your local community on Mattermost — our open-source chat platform — or become an Organizer of Community. Reach out to us at events@holo.host. We'll help you with your DevDinner, Meetup, Presentation, or Workshop!

What We've Heard: Comments and Thoughts from our Channels
HoloPort Delivery Video Update comment:

Join the conversation and engage in the community on all our Channels! (Mattermost, Reddit, Telegram, Twitter, Facebook, YouTube)

RedGrid featured in a major Australian newspaper, the AFR!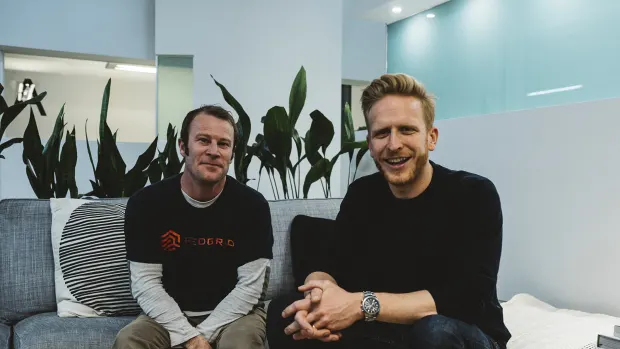 "The tech firm using AI to stop blackouts." "Utilising machine learning algorithms, the company has created a new distributed architecture to underpin the energy grid and turn neighbourhoods, apartment blocks or shopping centres into their own "mini-grids."
Check out the feature in the @FinancialReview: https://bit.ly/2KSXnzQ
Check out our Weekly Roundup 01, 02, 03, 04, 05, 06, 07, 08, 09, 10, 11, 12, 13, 14, 15, 16, or 17
We'd like you to share media articles or mentions that you think are newsworthy enough to be highlighted on our channels (Reddit & Telegram).

Join us at the next AMA, No. 29. This AMA will be with David Atkinson, Mary Camacho, and Matthew Schutte on Thursday, August 1st at 6PM UTC (2PM EST) on Youtube.
Check out our YouTube playlist to watch previous AMAs.
Let's discuss how we can address these issues together. We'd love to hear what you think! Start a new topic in our Community Feedback Forums.

Experience who we are and what we're working on up close!
Celestial's Holo(chain) Journey: Part 1 of 2
Meet Holo's Experience Designer, Celestial Hanley. Celestial's super sensing is her superpower! She has the ability to…
"focus in on the elegance of ideas and then can manifest experiences and processes out of seeing all those patterns and sensing all those patterns that solve useful problems."

There is help for you on your learning journey — check out these HOT Topic FAQs and Resources to dig deeper!
Will the HoloFuel (HF) token have the same value as the HOT token, and will it be of benefit to those holding the token to keep it if they are not planning on using it for the platform DAPP needs?
During the swap period we honor a swap rate of 1:1. This will keep prices relatively close.
But really, the price underlying value is equal. Early on, HoloFuel may be cheaper, but that's ok because if you're holding HOT, you just wouldn't convert.
---
Holochain Developer Documentation
Holochain is a framework for building and running secure, fully peer-to-peer distributed apps.developer.holochain.org
Frequently Asked Questions | Holo
Holochain invites people to think outside the blocks, so it makes sense that folks have a lot of questions about how it…holo.host
Visit our growing Solutions Knowledge base to learn more.

We believe that the key to our success is in building our community — the moments that matter most are in the connections within and between our communities. None of this would be possible without you! Thank you for showing up and sharing your unique talents with all of us. You work so hard to bring awareness and engagement to the Holo and Holochain communities, and we are thankful for you!